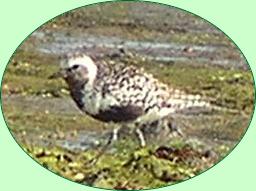 This bird was photographed just along the coast at Keyhaven. The Grey Plover is apparently a Winter visitor but, being pictured in August, this one appears to have most of its Summer plumage still intact.
Photograph (right) August 2003
By contrast, the bird below is in Winter plumage - although it did come a little closer so these pictures will enarge slightly.