A while back, someone posted a question about the Skegness lifeboat on the LINCSGEN genealogy mailing list. This stirred some memories because I grew up in Skegness from the age of 2. I recently made a (now rare) pilgrimage to the Lincolnshire area, so took the opportunity to visit the lifeboat house and take a few pictures.
The lifeboat house, for as long as I can remember, was on South Parade. It always seemed to me that if you were to be rescued at Skegness, you had to take a very long time to drown! The boat was on a trailer, hitched to a caterpillar tractor which, when the maroons went up, proceeded at a stately pace to the Clock Tower, where the traffic was stopped to allow the tractor to go round the wrong way. Down the esplanade and then across Skegness' famous 'miles of golden sand' took, I should think, a good ten minutes. At the water's edge, the tractor would drive into the sea until the boat floated off the trailer. If you were unlucky enough to be drowning to the north of the launch point, you might then be less than pleased to see the boat set off due south - in order to get around the sandbanks that lie offshore. On the other hand, you may well have been lucky and drifted onto one of these by now...
In spite of this lengthy launch procedure, rescues were regularly made, usually people who had drifted out to sea on inflatables, or who had got stranded on a sandbank due to the incoming tide.
The original lifeboat house in South Parade is still there - but is now a souvenir shop: -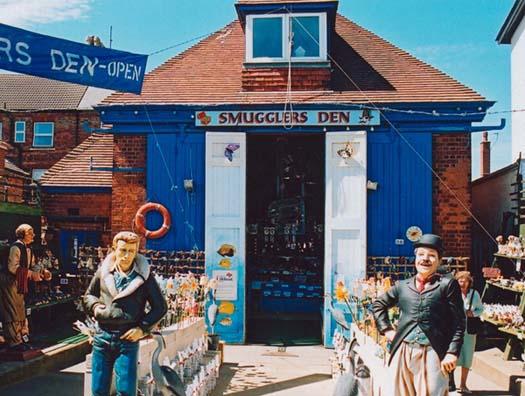 The new lifeboat house is on Tower Esplanade - a lot nearer to the sea! It is normally open to the public and its walls are covered with photos of crews past and present and details of the various rescue missions that have been undertaken. I have tried to photograph a couple of these old photos, but they are behind glass, so the results are not very good. However, if you are interested in crew members by the name of Grunnell or Smalley, then please contact me!
The lifeboat is still launched off a trailer, towed into the sea by a submersible tractor.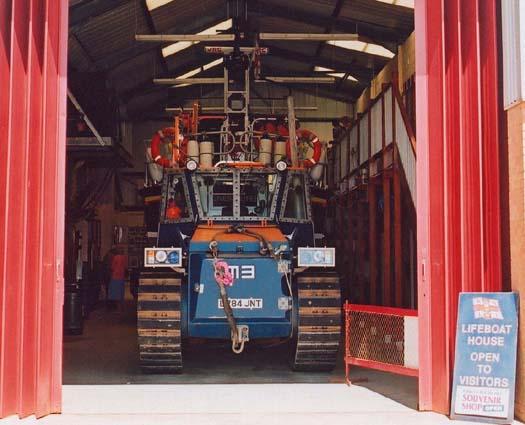 The staff at the lifeboat house are happy to respond to family history enquiries. (Being a charity though, please at least enclose an SAE and a small donation would, I am sure, be welcomed). Write to RNLI, The Lifeboat House, Tower Esplanade, Skegness, Lincs.
T .J. Hewson June 2001.
Return to top of page