So - what's the verdict? Well, the system has so far proven to be robust and reliable in use. Making sure that you get the geometry right in adapting the system to your particular model is obviously crucial. In addition to that I would stress the following points: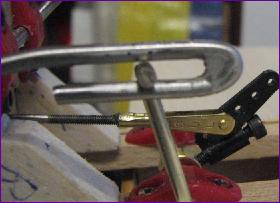 1. Choose wire that is strong enough for the job - but not beyond your wire-bending capability! I used 3mm wire which has proved to be about right. Even so, making the hairpin bends was a bit of a challenge and so I made them a bit over-long and 'fine tuned' the end of the hairpin with an epoxy fillet as shown in the picture.
2. Saddle clamps work well as bearings. I did have to ease mine slightly so that the wire could rotate freely. Space them as widely as you can to allow the torque rod section of the u/c leg to work. Because access is limited, I fixed the saddle clamps with hex screws into captive T nuts to be sure that the leg could be removed should it need to be straightened.
3. If I were doing this again, I would use retract servos. The standard HS85MGs are plenty strong enough and the locking mechanism does protect them from shock loads. However, I now appreciate that there is more to the different servo types than that. For instance:
i) Standard servos are much faster than a retract servo, so you need to have a servo slow function on your Tx (and be careful to check the switch position before switching on!) otherwise things can get a bit violent.
ii) Retract servos drive at full power right to their end point, then stop. A normal servo 'homes in' on its target point and reduces power as it gets nearer. This means that the end point is less well defined when under load - for example when drawing u/c doors closed. This can also result in a higher residual current drain than with a true retract servo.
So that's about it. The full size Welkin has a retractable tailwheel but I drew the line at that! If anybody adapts this system for use with a steerable tailwheel or nosewheel, I would like to hear about it - After all, I still have a yen to build a bigger P38 one day!
You can read more about the retracts in the context of the Welkin build in the Project Diary