The first thing we had to learn about the black headed gulls was that they don't always have black heads! In Winter, there are just two black smudges by the eye, as with the gull on the left. Just to add to the confusion though, this bird was photographed in early August! This is by far the most numerous gull on this part of the coast and is around in large numbers throughout the year.
The gulls' normal patrol area is of course the clifftop, but they can be tempted to come to the bird table. Sometimes it seems to be a challenging manouver for them, particularly when those starlings refuse to clear the runway! (Click on the pictures to enlarge).
The bird on the left is a youngster complaining at being left to feed itself. The one on the right has shed most of its juvenile feathers, but its bill is still developing the adult colour. I don't know whether this makes it a first or second winter bird. Any offers?
By contrast, the adult below has unusually dark legs and bill.

Photograph - April 2003

Photograph - January 2003
Then, of course, occasionally a total stranger sneaks into the picture!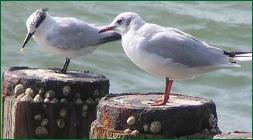 Photograph - September 2003