The Egret seems to be fairly common around the estuaries and marshes here on the south coast. This one was photographed at Stanpit Marsh, but we have also seen them at Keyhaven and one has occasionally been seen from the undercliff, flying along the shoreline.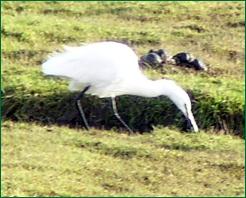 Photographs (above and right) - January 2003
This bird has more poise than any fashion model and seems almost to pose for the camera. Here is a small selection from the portfolio of one Little Egret, taken at Lymington in March 2003.