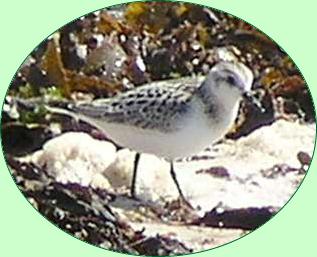 The benefits of experience were illustrated on a walk around Keyhaven with the Hampshire and Isle of Wight Wildlife Trust in 2004.
On our own, we would probably have identified this little bird, seen out on a concrete pier with a group of Turnstones, as a Dunlin. However, the assembled experts were in no doubt that it was a Sanderling.
Flattered by the attention, it then came to the shoreline enabling me to get a few grainy pictures.
In 2008 a lone bird was spotted at Barton but out of camera range, however after another three years another one turned up and I finally got some pictures that will enlarge reasonably.
Photograph (above) - September 2004