Aquabird Project Diary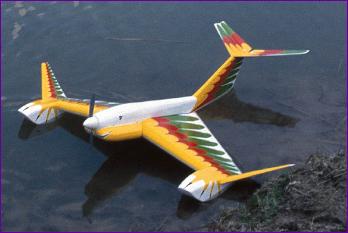 The Aquabird was designed by Laddie Mikulasko and was first published in 1992 in RCM magazine. The original prototype is pictured above.
We have no retrieval arrangements at our water flying site so flipovers can be particularly embarrassing. Having experienced this predicament with both my Lazy Bee and Sealand, I was looking to extend my range of waterplanes with something that would be stable on the water. When I came across the Aquabird, I immediately felt I need look no further.
This 60in span model was designed for .40 - .46 two stroke power, had a balsa veneered, foam-cored wing and weighed in at 7lb. The Traplet plan which I purchased shows a built-up option for the wing but in all other respects is, as far as I know, faithful to the prototype.
So dire was the English 'summer' of 2012 that I started planning my 2012/13 Winter build early. Indeed, by July, not only had I chosen the subject and bought the plan, but I had all the wood in stock. The urge to relieve the tedium of the bad weather by starting the build early was becoming irresistible when my other half suddenly called to say that she had located four dining chairs which matched our existing 42-year old set of four.
Apparently, in spite of the family having left the nest some years ago, it transpires that we now have a need for eight chairs. So for an outlay of £32 I found myself with a project to restore all eight chairs, which kept the workshop full until the 2012 Olympics got underway - and then in mid August, at last, Summer arrived.
After a good late Summer's flying, the equinoctial gales arrived in mid September, so the bench was cleared, the plans rolled out and the Aquabird build got formally underway.
Although I do want to do a built-up wing, the version drawn on the plan does look as if it was drawn without the benefit of a prototype build. The combination of the forward sweep and gull wing dihedral does result in some awkward joining angles between the wing panels, but I can't help thinking that there must be a way to tackle this without resorting to the multiplicity of large, heavy 1/8in ply dihedral braces shown on the plan.
Also, because of the deep chord and symmetrical section, the wing ribs are huge. As a result, this wing seemed to be a candidate for trying the Robin Fowler wing building method. Although still unsure about exactly how this would work out, with these vague ideas in mind, I started cutting ribs for the inboard panels.
September 2012
The plan shows 1/4in square spars top and bottom, with shear webs from 1/16in balsa. Nothing wrong with that but, because I wanted to use the two part rib approach, I went for a full depth spar out of 1/8in balsa with 1/4 x 3/32in basswood cap strips. This way, the rib halves could slot into notches in the spar, making the assembly somewhat self-jigging. Having cut out five rib pairs (20 rib halves), I felt the need for a break and also wanted to check that my rib/spar concept would actually go together.
When I offered up the first rib half, it looked alarmingly skinny. However, the ribs are pretty closely spaced so, once the rear sub spar is in place supporting the aft portions of the ribs, I think it will be strong enough.
Whichever way you come at this wing though, it seems that every joint and notch has to be cut at an angle so it's not something to be rushed.
Eventually though, I had a complete set of ribs and so it was time for a more comprehensive dry fit, and the inevitable fettling process.