DH88 Comet Project Diary
by Trevor Hewson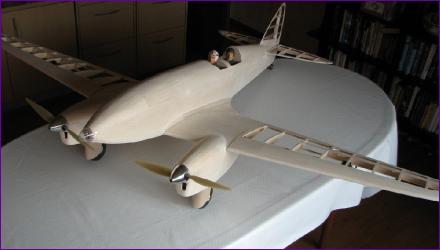 As always, the thought process that led up to the decision to build this model was long and tortuous. Luckily for you, I can't remember it in sufficient detail to bore you thoroughly but suffice it to say that I started out thinking about building a canard, which somehow mutated via the Lear Fan and the Beech King Air before emerging as yet another Ivan Pettigrew design. Am I in a rut, I ask myself?
Actually, this was something of a joint decision. Three of us BIMBO members managed to talk ourselves into building Comets, so a joint build thread was started on RCGroups to swap ideas, discuss problems and equipment choices and chart our progress. This was back in July and, as I start to construct these web pages (in September 2011) the number of 'registered Comet builders' has reached seven; five in the UK, one in Norway and one in the USA, although only three of us have broken the seal on the glue bottle so far.
Preliminaries
The above-mentioned RCGroups thread has all the detail, so I will just summarise the pre-build cogitations and preparations which took place during July and August, leaving the detail to the appropriate part of the build.
As you might imagine, choice of retracts was fairly high on the agenda. Ivan's plan shows home made units, which I used successfully on the Welkin. However, since then electric retract units have become available quite cheaply and, after researching on the forums, we eventually settled on the PZ-15091 units made by PingZheng Science Technology Co. Ltd. in China. Already, just two months on from making our choice, their range has expanded again.
The units seem to be well built and should be up to the job. They come with no instructions and no legs. There is though an alternative mounting plate, so the mounting flange can be above or below the unit. There is also a single machine screw, about 12mm x 3mm which, once you work out where it goes, is used to retain the leg. Initially, I felt that their lifting power was rather limited but, since re-charging the tired old receiver battery I was using, they now seem to have ample power.
Another area of discussion was the choice of power train. Ivan's model ran on 18 NiCd cells, pulling 30amps, with the motors mounted in series. I have more or less standardised on 3000mah batteries and usually aim to use about 2000mah in a 10min flight. That would imply an average current draw of only 12 amps. On a 3s pack, that equates to only about 140W which is a bit low for a model of this size (80in wingspan, about 6lb AUW) so I was keen to use a 4s x 3000mah battery if possible.
That is where I found I had backed myself into a corner. I really struggled find any motors in the 300 - 500W category with a low enough kv to turn a 12in prop on 4 cells for a current draw in the 20 - 25amp range. Eventually though, I bought two motors from RCTimer, specifically their BC3536-11 750kv offering.
Preliminary tests indicate that these motors will draw between 20 and 25amps apiece at full throttle with 12 x 6in props on 4 cells so hopefully they should be just the job.