Sealand Project Diary
by Trevor Hewson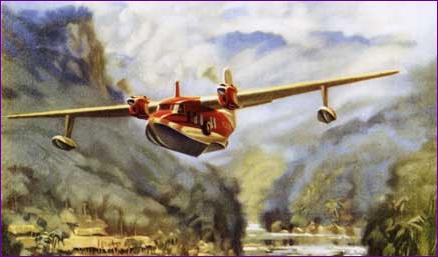 As the Winter of 2006 approached I felt the need to undertake a proper building project, especially after having something of an ARTF year (Piper Cub and Mig 3). But what to build? As a browse through my online log books will show, I already have too many models which don't get enough flying so it would have to be something that would extend the flying opportunities. Remembering the fun of flying the Miss Hyperion off water, the idea of a flying boat of some sort arose. However, we really don't have a regularly available aquatic site so, if the model was going to see some air time, it would have to be flyable off land too, so I started looking around for amphibious subects.
The need for back-friendly easy rigging at the field ruled out biplanes but, to take full advantage of electric power, a twin engined subject had some attraction. It would be neat to say that my choice of the Sealand was inspired by finding the above poster for sale on eBay. However the reality is that, after a bit of web surfing, I alighted upon the plans of Canadian modeller Ivan Pettigrew and I eventually chose the Sealand from his extensive collection (at http://ivansplans.com/ ). This model spans just under 75in and Ivan's prototype flew on 8 CP1700 NiCds at an AUW (without wheels) of 60oz. With a wing area of just under 700 sq ins, this model is very light at a loading of 12.6oz/sq ft. For once then, I could look forward to building a model without looking for opportunities to lighten it at every stage!
Once the plan arrived (Ivan's service was very prompt), I ordered up a selection of wood from FliteHook, cleared some space in the workshop and made a start. Throughout this project, I have reported progress by e-mail, with accompanying pictures, to a few fellow modellers, seeking their advice and discussing various issues as they arose. During this time, one of them (Mike Roach) took over the care and maintenance of the Christchurch and District Model Flying Club website and promptly launched a 'Projects' section where he began posting pictures of the Sealand along with extracts from my e-mail messages. This worked so well that I have shamelessly cribbed the idea for what follows. I have tried to keep each diary entry fairly brief, but you will see several 'More..' links which you can follow for more pictures and/or explanations if you are interested in that stage of construction.